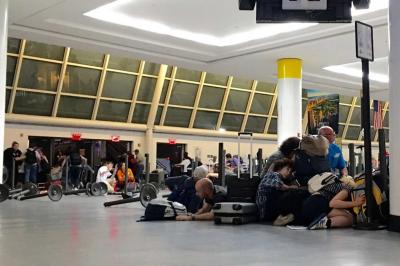 A nation scared by the sound of applause, seeing phantom threats everywhere.
The terrorists have won. Soaked in its own fear sweat, the nation can't even wait in line to board a plane without suffering a nervous breakdown.
When the first stampede began, my plane had just landed. It started, apparently, with a group of passengers awaiting departure in John F. Kennedy Airport Terminal 8 cheering Usain Bolt's superhuman 100-meter dash. The applause sounded like gunfire, somehow, or to someone; really, it only takes one. According to some reports, one woman screamed that she saw a gun. The cascading effect was easier to figure: When people started running, a man I met later on the tarmac said, they plowed through the metal poles strung throughout the terminal to organize lines, and the metal clacking on the tile floors sounded like gunfire. Because the clacking was caused by the crowd, wherever you were and however far you'd run already, it was always right around you.

...

There was no "they." There was not even a "he," no armed person turning on a crowd. But what happened at JFK last night was, in every respect but the violence, a mass shooting. The fact that there was no attack at the center of it was both the weirdest and the scariest part — that an institution whose size and location and budget should make it a fortress, in a country that has spent 15 years focused compulsively on securing its airports, in a city with a terrifyingly competent anti-terror police unit, could be transformed into a scene of utter bedlam, stretching out from all eight terminals across the tarmac and onto the adjacent highways, by the whisper of a threat.