Doing stupid things can get you killed.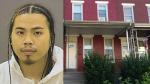 Three people stood in the basement of a Westport home before 4 a.m. Wednesday to film a stunt in which they planned to test a bulletproof vest. Darnell Mitchell put it on, looked into a video camera and proclaimed himself ready to take "deuce deuce in the chest."

But, police said, Mark Ramiro missed the body armor when he pulled the trigger on the .22 caliber handgun, and he now faces murder charges in the 28-year-old's death.