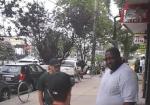 Eric Garner was killed by a New York City police officer last Thursday, choked to death in an assault by several cops. The crime of which he was accused? Selling untaxed loose cigarettes. Witnesses say he had just broken up a fight, but rather than pursue and investigate that act of violence they harassed, assaulted, and murdered Garner.
Two officers and four EMTs and paramedics have been suspended over the incident, pending investigation.
About 500 Americans are killed by police each year. Some of those, of course, are legitimate cases of defense, but "police privilege", the perceived "right" of cops to harass, beat, taze, pepper-spray, and shoot civilians who don't properly knuckle-under, is becoming more and more of a threat to our lives and liberty.
A 400-pound asthmatic Staten Island dad died Thursday after a cop put him in a chokehold and other officers appeared to slam his head against the sidewalk, video of the incident shows.

...

But Esaw Garner and other family members said it was a trumped up claim.

"They're covering their asses, he was breaking up a fight. They harassed and harassed my husband until they killed him," she said. Garner's family said he didn't have any cigarettes on him or in his car at the time of his death.