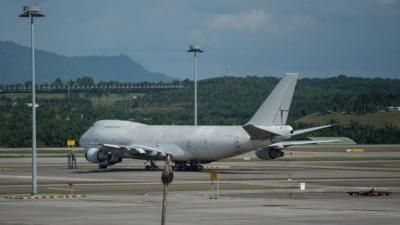 747s are rather large and expensive pieces of equipment. It takes a major screwup to misplace one. Yet some company (perhaps Swift Air Cargo left *three* of them sitting around in Kuala Lumpur.
Free-market fundamentalists are fond of claiming that the private sector is more efficient and competent than the government. I have to wonder if such people have ever worked in the private sector. Incompetence is the rule everywhere, from government agencies to Fortune 500 companies to microbusinesses. And that should leave us concerned about not just allocating too much power to the state but also about creating powerful state-backed legal structures like "corporations" -- or even "property" itself -- which can let incompetence steamroll over people.
Officials at Malaysia's main airport have taken out a newspaper advert seeking the owner of three Boeing 747 jets they say have been left unclaimed.

The notice said if the owners "fail to collect the aircraft within 14 days..., we reserve the right to sell or otherwise dispose of the aircraft".

It said fees for landing and parking were also owed.

An airport official was quoted as saying they had tried to contact the jets' last known owners.

"I don't know why they are not responding. There could be many reasons. Sometimes it could be because they have no money to continue operations," Zainol Mohd Isa, general manager of Malaysia Airports, told AFP.