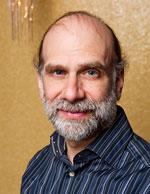 The inimitable Bruce Schneier just posted about how the response to the LA bomb theats was an incident of "CYA security" -- the purpose of which is not to make a community more secure but to insulate authorities from blame: He first discussed that topic back in 2007, and the post remains all to relevant:
If someone left a backpack full of explosives in a crowded movie theater, or detonated a truck bomb in the middle of a tunnel, no one would demand to know why the police hadn't noticed it beforehand. But if a weird device with blinking lights and wires turned out to be a bomb -- what every movie bomb looks like -- there would be inquiries and demands for resignations. It took the police two weeks to notice the Mooninite blinkies, but once they did, they overreacted because their jobs were at stake.

This is "Cover Your Ass" security, and unfortunately it's very common.

Airplane security seems to forever be looking backwards. Pre-9/11, it was bombs, guns, and knives. Then it was small blades and box cutters. Richard Reid tried to blow up a plane, and suddenly we all have to take off our shoes. And after last summer's liquid plot, we're stuck with a series of nonsensical bans on liquids and gels.

Once you think about this in terms of CYA, it starts to make sense. The TSA wants to be sure that if there's another airplane terrorist attack, it's not held responsible for letting it slip through. One year ago, no one could blame the TSA for not detecting liquids. But since everything seems obvious in hindsight, it's basic job preservation to defend against what the terrorists tried last time.

We saw this kind of CYA security when Boston and New York randomly checked bags on the subways after the London bombing, or when buildings started sprouting concrete barriers after the Oklahoma City bombing. We also see it in ineffective attempts to detect nuclear bombs; authorities employ CYA security against the media-driven threat so they can say "we tried."