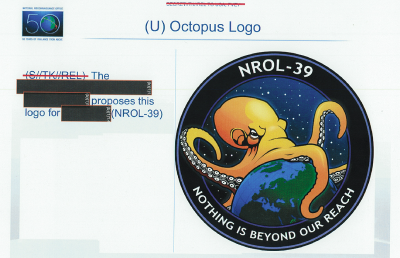 A giant tentacled beast grips the earth. An illustration from a Lovecraft story about the Elder Gods? No, a mission logo from the secretive National Reconnaissance Office.
When the National Reconnaissance Office (NRO) announced the upcoming launch of their NROL-39 mission back in December 2013, they didn't get quite the response they had hoped for ...

That might have had something to do with the mission logo being a gigantic octopus devouring the Earth.

...

The 15-page file clears up a lot of questions surrounding the logo approval process - rather than simply being somebody's bad idea that just didn't get squashed, it turns out the octopus had made it across many, many desks before that final OK.

...[A]n article for what appeared to be the ODNI's internal magazine reveals the "secret origin" of the octopus, which has less to do with an admiration of mollusca and more with a faulty component called an "octopus harness."

That article draws from a speech made by the Mission Manager - a full transcription of his remarks are included in the file, and they expand upon NRO's capabilities with a charming obliviousness to just how terrifying all this sounds.