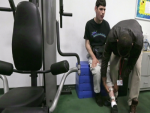 The normalization of electric shock torture continues. Soon all citizens can be fitted with remotely controlled shock devices -- if you're not doing anything wrong, you have nothing to fear from them, right?
It's a rare move by the FDA, following years of complaints from disability rights' groups and even a U.N. report that the shocks are tantamount to torture.

...

...The center uses a graduated electronic decelerator, or GED, that is attached to the arms or legs. If the student acts aggressively — head-banging, throwing furniture, attacking someone — then a center worker can press a button to activate the electrode, delivering a two-second shock to the skin.

Some patients compared the shocks to a hard pinch or bee sting. Others say it's far more painful; one said it was like being stung by a thousand bees.

...

"It's not safe. It doesn't feel safe. I ended up having nightmares," Jennifer Msumba testified via video at the FDA's hearing. The 38-year-old said the GED left burn marks and was prone to misfires, unintended shocks.