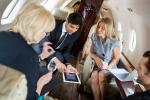 FFS. Obviously, why should the 1% have there feeds polluted with the posts of the poors? OTOH, the subscriber's list would be a handy reference when we start sending the aristos to the guillotine.
However, unlike Facebook which is looking to connect everyone to the internet, there is a new site called Netropolitan that focuses more on exclusivity and privacy.

The site, which launched today, was founded by composer and former conductor of the Minnesota Philharmonic Orchestra James Touchi-Peters who wanted to provide a social media site for affluent and accomplished individuals. People wishing to join need only pay a mere $9,000 to join. Of that amount, $6,000 is the initiation fee and the remaining $3,000 is for the annual membership fee which users will continue to pay.