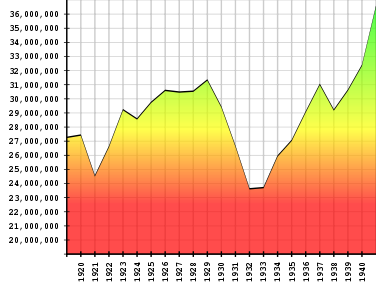 With talk of federal spending to help the economic recovery, it's become a right-wing talking point that FDR's New Deal didn't work.
Like most talking points from right-wing pundits these days, it's a bunch of malarkey.
Employment began to recover in FDR's first term. By 1937, the labor force had reached just short of the boom's 1929 peak. In 1937, conservative opposition slowed New Deal projects - and employment fell again, though not as steeply. Opposition ebbed, the New Deal was strengthened, and employment recovered to higher than 1929 levels - and was trending still higher - by 1940, before the U.S. entry into WWII. (Note this chart shows non-farm, non-WPA employment.)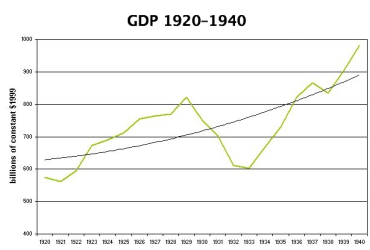 The same pattern can be seen in GDP and in industrial production - a turn-around from sharp decline to sharp rise when the New Deal was implemented, a fall-off at the start of FDR's second term when opposition slowed it, but a still a full recovery before WWII.
GDP (constant dollars) was higher in 1937, and in every subsequent year, that it was in 1929 - an argument can be made that the Depression ended in 1937, and was followed by a milder recession brought on by the slowing of New Deal projects.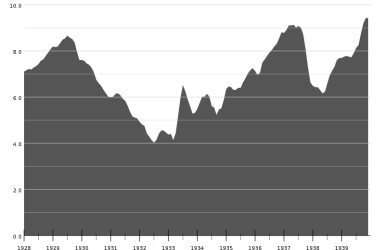 Now, the New Deal wasn't magic; it couldn't instantly fix an economic instability caused by years of speculative capitalism, plus a declining agricultural export market (as Europe recovered from WWI) along with a decrease in farm employment from increased mechanization - not to mention the effects of the Dust Bowl. But the numbers clearly show that the New Deal did a lot of good for the economy.