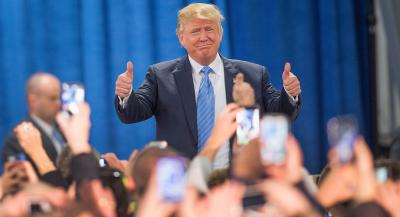 It's a Fox poll, so, take with salt. But still, good job Democrats on picking the candidate who consistently polls worse against Trump.
Presumptive Republican nominee Donald Trump leads Hillary Clinton in a hypothetical general election matchup, according to a Fox News poll released Wednesday evening.

Trump leads Clinton 45 percent to 42 percent, within the poll's 3-point margin of error. In the same poll conducted in April, Clinton led by 7 points — 48 percent to 41 percent.

...

More than seven in 10 — 71 percent — said the phrase "will say anything to get elected" describes Clinton, while 65 percent said the same of Trump.

Clinton holds double-digit advantages among women (50 percent to 36 percent), African Americans (90 percent to 7 percent), Latinos (62 percent to 23 percent) and those under the age of 35 (46 percent to 35 percent).

Trump, meanwhile, has the upper hand among independent voters (46 percent to 30 percent), men (55 percent to 33 percent), white voters (55 percent to 31 percent), those without a college degree (45 percent to 40 percent), and varying majorities of voters 35 and older.