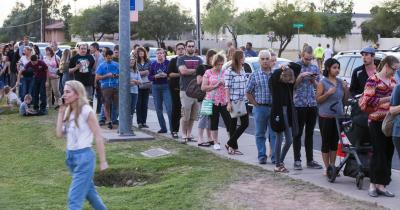 A certain amount of dissatisfaction has, sadly, become par for the course. And with the voting process become more and more partisan and opaque, distrust has naturally grown. But this seems to go beyond the usual grumbling.
Gov. Doug Ducey ripped election officials for their handling of hours-long lines during Tuesday's presidential preference election, saying the problems were "unacceptable."

...

Phoenix Mayor Greg Stanton asked U.S. Attorney General Loretta Lynch to launch an investigation into what he called "a fiasco."

...

U.S. Rep. Raúl Grijalva, D-Ariz., urged people to contact his office with their complaints, which he said he will use to propose legislation to fix voting irregularities.

The chairman of the state House Elections Committee has set a 10 a.m. hearing for Monday to explore why Maricopa County provided only 60 polling places, leading to such long lines.

...

Barnett Lotstein, now retired from the Maricopa County Attorney's Office, called the whole episode voter suppression. Count him and wife among the suppressed: They gave up on voting after driving to two polling places in Phoenix in late afternoon, where they were told to expect a three-hour wait.