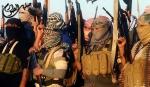 Same as it ever was...same as it ever was. Let's go pour some more gasoline on that fire, we'll put it out this time for sure!
The Islamic State jihadist organization has recruited more than 6,000 new fighters since America began targeting the group with air strikes last month, according to the U.K.-based Syrian Observatory for Human Rights.

...

A number of rebel commanders who oppose IS while continuing to fight the regime of Syrian president Bashar Assad have warned that the strikes are increasing local support for the jihadists.