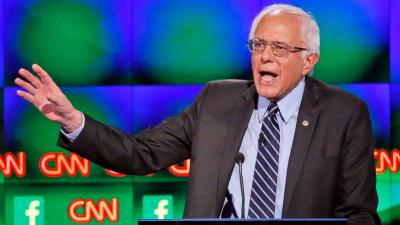 Everyone expected Sanders to beat Clinton in New Hampshire, New England is his home turf. But if he takes Iowa too, that's a gutpunch to the Clinton campaign. The two latest polls have the Democratic race there a tie: this one has him slightly up, a Bloomberg Politics/Des Moines Register poll has him slightly down, both within the margin of error.
Clinton is up in the next two races, Nevada and South Carolina. But if the first four Democratic primaries break out as two for Sanders and two for Clinton, it smashes the DNC/HRC narrative and the Democrats may have a chance of avoiding the doom of a Clinton candidacy. But if it's 3-1 Clinton she'll probably take the nomination, and we'll have a President Rubio or President Cruz to look forward to. If, somehow, Sanders takes Iowa and then parlays that into a further victory in either Nevada or South Carolina and takes three of the first four primaries, Clinton can start planning her concession and retirement, but that's an unlikely scenario -- though some are seeing Nevada as in play.
Democratic presidential candidate Bernie Sanders has climbed to a slim lead over national frontrunner Hillary Clinton in a new Iowa poll.

With just 20 days remaining until the first-in-the-nation caucus, a Quinnipiac University poll released today shows Sanders leading Clinton for the first time in the Hawkeye State with 49 percent support -- his highest support in any Iowa poll yet. Clinton garnered 44 percent support.

That's a 9 percentage point increase for Sanders and a 7-point drop for Clinton since the last Quinnipiac poll in Iowa almost one month ago.

Sanders' lead, which is still barely within the margin of error, is bolstered by a broad gender gap...