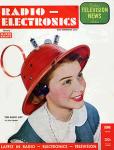 Forget Spotify on your Wifi-connected tablet. Forget Pandora. Forget Napster, your iPod...forget even your Walkman. No, you need a Man From Mars Radio Hat. (Tip of the Radio Hat to Boing Boing.
The Radio Hat was a portable radio built into a pith helmet that would bring in stations within a 20 mile (32 km) radius. It was introduced in early 1949 for $7.95 as the "Man-from-Mars Radio Hat."[1] Thanks to a successful publicity campaign, the Radio Hat was sold at stores from coast to coast in the United States.

The Radio Hat was manufactured by American Merri-Lei Corporation of Brooklyn N.Y. The company was a leading supplier of party hats, noise makers and other novelty items. Its founder, Victor Hoeflich, had invented a machine to make paper Hawaiian leis while still in high-school (1914), and by 1949 the company shipped millions of leis to Hawaii each year. An inventor and gadgeteer,[2][3][4] Hoeflich continued to develop and even sell machinery that manufactured paper novelty items.[5][6]