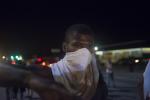 The unspeakable topic in American politics is the rot at the heart of the system: class inequity.
And, unless we want the Ferguson atrocity to also be swallowed and become nothing more than an intestinal irritant to history, we have to address the situation not just as another act of systemic racism, but as what else it is: class warfare.

...

The U.S. Census Report finds that 50 million Americans are poor. Fifty million voters is a powerful block if they ever organized in an effort to pursue their common economic goals. So, it's crucial that those in the wealthiest One Percent keep the poor fractured...

One way to keep these 50 million fractured is through disinformation. PunditFact's recent scorecard on network news concluded that at Fox and Fox News Channel, 60 percent of claims are false. At NBC and MSNBC, 46 percent of claims were deemed false. That's the "news," folks!...

...

With each of these shootings/chokehold deaths/stand-your-ground atrocities, police and the judicial system are seen as enforcers of an unjust status quo. Our anger rises, and riots demanding justice ensue. The news channels interview everyone and pundits assign blame.

Then what?