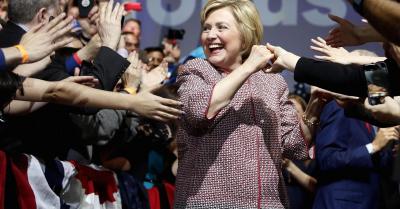 And this is why so many people feel that the stench of the Clintons must be hosed off the Democratic Party -- perhaps even if the cost is four years of (ugh) President Trump.
Hillary Clinton took a lot of flak on Monday after a report surfaced that the presidential candidate wore a Giorgio Armani jacket worth more than $12,000 during a speech in April about inequality.

Clinton, who was well-known for her vast pantsuit collection, has upgraded her wardrobe during her most recent bid for president to appear more relatable, according to the New York Post.
The Democrats pretty much abandoned the working class (at least the white part of it) in the 1970s. You can get away with wearing a $12k garment if you're only playing identity politics, but a jacket that costs more than some folk's full-time take-home pay does not fly for anyone attuned to economic justice.