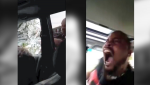 Paranoid criminal cops say they thought he had a weapon. It's too bad nobody did have one and used it to stop this assault and torture. In the end, the only way to stop a bad cop with a gun is a good citizen with a gun. The Black Panthers were right on that much.
It's important to note that this man was a passenger in the car. He had no obligation to carry ID papers. He was entirely within his rights to not roll the window all the way down -- indeed, that would make a sane cop feel safer, as it's impossible to try to punch or stab someone through the window. With no grounds for reasonable suspicion, there is no grounds for detention or arrest, and certainly not for assault.
Except, of course, for black people talking back to white cops. Which in the American police state, justifies anything.
A federal lawsuit filed Monday accuses Indiana police of excessive force after officers smashed a woman's car window with children inside, tasered an unarmed passenger and dragged him out of the vehicle during a routine traffic stop last month.

Police, though, say they feared the passenger might have a weapon after he refused to step out the vehicle and reached toward the rear seats.