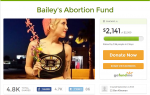 Well, there goes any chance I will ever contribute to any GoFundMe campaigns again. I'm guessing the "sorcery" thing would leave a lot of Pagans out.
Earlier this week, the platform — which operates like its big-brother Kickstarter, but with far fewer rules — summarily shut down the sincere, if irreverent, fundraiser of an Illinois woman who had raised $2,100 to terminate a "rough, unplanned and unexpected pregnancy."...

In the uproar that followed, GoFundMe didn't just take down Bailey's page. On Tuesday, the platform also categorically banned fundraisers on a wide range of arbitrary moral issues, including abortion, gambling, "sorcery" and any material "relating to the adult industry" in any capacity.