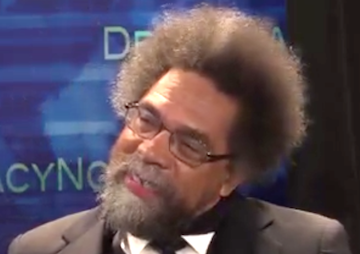 Cornel West is ahead of the curve as usual, one of the most insightful and courageous thinkers on the scene today. (I don't agree with him on everything but he's always worth listening to.) In the primaries he was a strong voice for Sanders, but now that Sanders has caved West is backing the Green Party's Jill Stein:
A neoliberal disaster is one who generates a mass incarceration regime, who deregulates banks and markets, who promotes chaos of regime change in Libya, supports military coups in Honduras, undermines some of the magnificent efforts in Haiti of working people, and so forth. That's the record of Hillary Clinton. So there was no way—when my dear brother, who I love very deeply, Bernie Sanders said she will make an outstanding president, I said, "Oh, I disagree with my brother. I think she'll—I don't think she'll make an outstanding president at all." She's a militarist. She's a hawk. She could take us into war with Russia. She could take us into war with Iran.

...

And once my dear brother moved into his endorsement, his strong endorsement of the neoliberal disaster that Sister Hillary represents, there was no way that I could stay with Bernie Sanders any longer, had to break with the two-party system. The duopoly has to come to an end. I was hoping we could bring the neoliberal era to a close, because a year ago, populist, Bernie Sanders; neofascist with Trump, or neoliberalism limps on with Hillary Clinton. Right now the Democratic Party still run by big corporations, big lobbyists and so forth, from AIPAC to a host of other lobbyists of big money, and it looks like they want to hold on for dear life. And it's a sad thing to see, because the country is having a nervous breakdown. And you just hope that there can be enough people with compassion and courage to hold onto justice, keep the legacy of Martin Luther King Jr. and Rabbi Abraham Joshua Heschel and Edward Said and Dorothy Day alive.