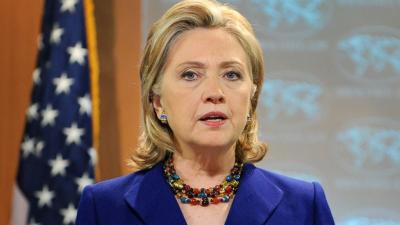 Straight-up corruption gets scumbag trader (sorry, but high-frequency traders should be strung up by their thumbs, they are parasitic gamblers who contribute nothing) a nice government job for which he has no qualifications.
A prolific fundraiser for Democratic candidates and contributor to the Clinton Foundation, who later traveled with Bill Clinton on a trip to Africa, Rajiv K. Fernando's only known qualification for a seat on the International Security Advisory Board (ISAB) was his technological know-how. The Chicago securities trader, who specialized in electronic investing, sat alongside an august collection of nuclear scientists, former cabinet secretaries and members of Congress to advise Hillary Clinton on the use of tactical nuclear weapons and on other crucial arms control issues.

...

Fernando's lack of any known background in nuclear security caught the attention of several board members, and when ABC News first contacted the State Department in August 2011 seeking a copy of his resume, the emails show that confusion ensued among the career government officials who work with the advisory panel.

"I have spoken to [State Department official and ISAB Executive Director Richard Hartman] privately, and it appears there is much more to this story that we're unaware of," wrote Jamie Mannina, the press aide who fielded the ABC News request. "We must protect the Secretary's and Under Secretary's name, as well as the integrity of the Board. I think it's important to get down to the bottom of this before there's any response.

...

Fernando himself would not answer questions from ABC News in 2011 about what qualified him for a seat on the board or led to his appointment. When ABC News finally caught up with Fernando at the 2012 Democratic convention, he became upset and said he was "not at liberty" to speak about it. Security threatened to have the ABC News reporter arrested.

Fernando's expertise appeared to be in the arena of high-frequency trading -- a form of computer-generated stock trading. At the time of his appointment, he headed a firm, Chopper Trading, that was a leader in that field.

Fernando's history of campaign giving dated back at least to 2003 and was prolific -- and almost exclusively to Democrats. He was an early supporter of Hillary Clinton's 2008 bid for president, giving maximum contributions to her campaign, and to HillPAC, in 2007 and 2008. He also served as a fundraising bundler for Clinton, gathering more than $100,000 from others for her White House bid. After Barack Obama bested Clinton for the 2008 nomination, Fernando became a major fundraiser for the Obama campaign. Prior to his State Department appointment, Fernando had given between $100,000 and $250,000 to the William J. Clinton Foundation, and another $30,000 to a political advocacy group, WomenCount, that indirectly helped Hillary Clinton retire her lingering 2008 campaign debts by renting her campaign email list.