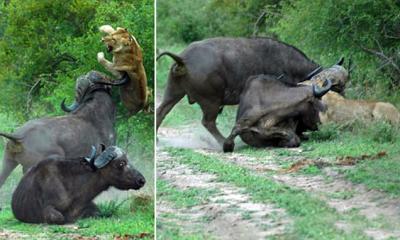 Our title here is a reference to the famous "Buffalo buffalo buffalo buffalo buffalo" sentence, but besides getting a kick out of being able to draw a tenuous connection from that to this story (and also from the fact that some friends nicknamed me "Zen Buffalo" (for reasons I've never known) at Playa Del Fuego some years back), I like how this video puts a spike in the "fierce carnivore vs. placid herbivore" myth.
'The second lion tried to look for an opening for the death blow to the throat, when another female buffalo started bellowing loudly and calling reinforcement from the bulls.

'The lions had now brought the old female down, and we thought the inevitable would happen.

'But the bull ran right in and dug his horns under the young lion and tossed him in the air - twice.