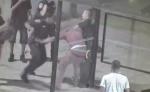 The usual. No one in Baltimore City trusts the police, and this is why. See more video at https://www.youtube.com/watch?v=eDTbSmF76N8.
Truss had a bag in one hand and Coleman was holding his other arm as they paused near a bus stop. Cosom stepped around a group of bystanders before launching a blow that connected with Truss' upper body, sending him reeling backward, the video shows.

Then Cosom delivered a series of punches, some while another officer held Truss' right arm against the side of the bus stop, the video shows.

...

"Truss was in a totally defenseless position, attempting to walk away, when he was beaten by Defendant Officer Cosom," the lawyers wrote.

Prosecutors dropped the charges against Truss after reviewing the video, according to the lawsuit, which seeks $5 million in damages.