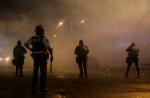 So much for hopes that taking the wretched scum of the local PD of the picture would help resolve the situation in Ferguson. Someone want to tell me what legal authority a state has to suspend Amendment I's right to assemble, to turn chemical weapons on people engaged in Constitutionally protected activity? I don't see any "after dark" exception in the Bill of Rights. Curfews are legally indefensible.
The first night of a state-imposed curfew in Ferguson, Missouri, ended with tear gas and seven arrests, after police dressed in riot gear used armored vehicles to disperse defiant protesters who refused to leave a St. Louis suburb where a black, unarmed teen had been shot by a white police officer a week earlier.

...

As officers put on gas masks, a chant from the distant crowd emerged: "We have the right to assemble peacefully."

A moment later, police began firing canisters into the crowd. Highway Patrol Spokesman Lt. John Hotz initially said police only used smoke, but later told The Associated Press they also used tear gas canisters.

"Obviously, we're trying to give them every opportunity to comply with the curfew," Hotz said.