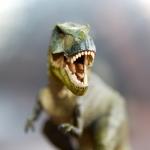 Just when you though the hoplophobia couldn't get more ridiculous...
When a South Carolina student was given an assignment by his teacher to create a Facebook-type status report telling something interesting about himself, he allegedly wrote "I killed my neighbor's pet dinosaur. I bought the gun to take care of the business."

School officials were alarmed by 16-year-old Alex Stone's words and called police. ...

Police told My Fox Chicago that Stone was difficult during questioning and they arrested him and charged him with disturbing the school. Stone was also suspended from Summerville High School for a week.