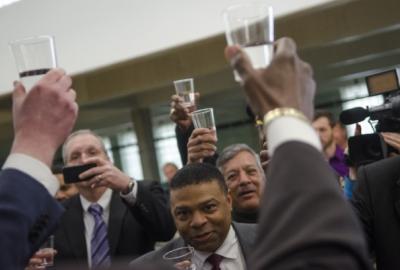 The mayor — elected after her predecessor, Dayne Walling, experienced fallout from his administration's handling of the water problems — said in the statement that she was seeking support from the federal government to deal with the "irreversible" effects of lead exposure on the city's children. Weaver thinks that these health consequences will lead to a greater need for special education and mental health services, as well as developments in the juvenile justice system.

"Do we meet the criteria [for a disaster area]? I don't know," she told Michigan Live. But Weaver doesn't think the city can receive the help it needs without alerting federal officials to the urgency of the matter.

...

Almost immediately after the city started drawing from the Flint River in April 2014, residents began complaining about the water, which they said was cloudy in appearance and emitted a foul odor.

... Although city and state officials initially denied that the water was unsafe, the state issued a notice informing Flint residents that their water contained unlawful levels of trihalomethanes, a chlorine byproduct linked to cancer and other diseases.

...

Through continued demonstrations by Flint residents and mounting scientific evidence of the water's toxins, city and state officials offered various solutions — from asking residents to boil their water to providing them with water filters — in an attempt to work around the need to reconnect to the Detroit system.