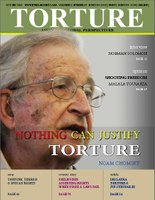 As Democratic partisans scream that we must "vote blue matter who!", it is worth pausing to consider how criminal the last "blue" POTUS was. This 2012 interview with Noam Chomsky is a good reminder.
Obama's policies have been approximately the same as Bush's...There were some objections on mostly partisan grounds, but for the most part, they supported his policies and it's not surprising that they have continued to do so. In some respects Obama has gone even beyond Bush.... The practices hadn't been significantly different. The one part that received public attention is what you mentioned, the part that permits the indefinite detention of American citizens, but why permit the indefinite detention of anybody? It's a gross violation of fundamental human rights and civil law, going all the way back to the Magna Carta in the 13th Century, so it's a very severe attack on elementary civil rights, both under Bush and under Obama. It's bipartisan!

As for the killings, Obama has sharply increased the global assassination campaign. While it was initiated by Bush, it has expanded under Obama and it has included American citizens, again with bipartisan support and very little criticism other than some minor criticism because it was an American. But then again, why should you have the right to assassinate anybody?...The government has made it very clear that the assassinations are personally approved by Obama and the criteria for assassination are very weak. If a group of men are seen somewhere by a drone who are, say, loading something into a truck, and there is some suspicion that maybe they are militants, then it's fine to kill them and they are regarded as guilty unless, subsequently, they are shown to be innocent. That's the wording that the United States used and it is such a gross violation of fundamental human rights that you can hardly talk about it.

The question of due process actually did arise, since the US does have a constitution and it says that no person shall be deprived of their rights without due process of law – again, this goes back to 13th Century England – so the question arose, "What about due process?" The Obama Justice Department's Attorney General, Eric Holder, explained that there was due process in these cases because they are discussed first at the Executive Branch. That's not even a bad joke! The British kings from the 13th Century would have applauded. "Sure, if we talk about it, that's due process." And that, again, passed without controversy.