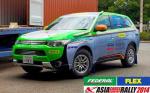 "The Mitsubishi Outlander PHEV is the world's first plug-in hybrid SUV. " I hope more models will be on the market when it comes time (hopefully not for many years!) to replace Starbug, my Ford Escape hybrid SUV (not plug-in).
Mitsubishi's top selling Outlander PHEV plug-in hybrid electric vehicle is set to tackle a new frontier when it takes on one of the toughest off-road events in outback Australia next month.

With technical support from Mitsubishi Motors Australia (MMAL), Team Mitsubishi Ralliart Australia (TMR Australia) will enter a plug-in hybrid Outlander PHEV in the iconic Australasian Safari, which takes place in Western Australia from 19-27 September.

It will be the first plug-in hybrid four-wheel drive officially entered in an Australian motorsport event – including the Safari, which is considered one of the most demanding off-road endurance rallies in Australia.