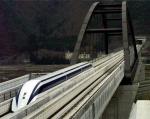 Yes, please. It's past time to have real passenger rail service in the U.S.
An investor group hoping to build a high-speed train capable of cutting the travel time between Baltimore and Washington to 15 minutes says in a filing to state regulators that it has lined up more than $5 billion in financial backing.

The commitment is from the Japanese government...

...

The details were included in Rapid Rail's filing Wednesday asking Maryland regulators for the old state franchise rights of the former Washington Baltimore & Annapolis Electric Railroad, a once-busy interurban electric rail car system that linked the three cities in the early 20th century.

"In a back-to-the-future type way, you see that there was already a Baltimore-Washington service that previously existed ... sort of sitting on the shelf waiting for people to pull it off and dust it off, for us to get back to providing what they had in 1935," said Wayne Rogers, a major shareholder...