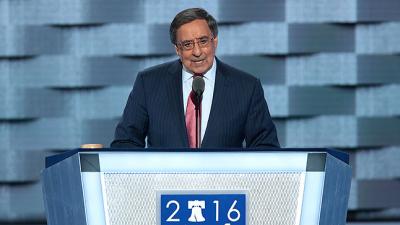 Nothing shows your progressive, pro-peace bona fides like having the former CIA director and Secretary of Defense, a guy at the heart of your drone war crimes program, give a speech at your convention -- and then turning out the lights on protesters.
Former Defense Secretary Leon Panetta harshly condemned Donald Trump, but his speech was overtaken by protesters at the Democratic National Convention on Wednesday night.

Panetta called Donald Trump's remarks about Russia "inconceivable" in a scathing primetime address.

...

But his speech was interrupted by sustained chants of "no more war." The chants came the delegations of Oregon and Washington, two states won by Bernie Sanders.

Eventually, other delegates drowned them out with chants of "USA."

But Panetta appeared rattled by the interruptions and unsure how to proceed. As Panetta continued to speak, the lights were dimmed over the sections of Sanders supporters, an apparent effort to silence them.