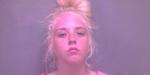 Maybe she got confused by the "this my rifle, this is my gun" thing?
Cops say a Tennessee teen who got arrested for driving with a suspended license on Monday had a surprise in store for police.

When a female corrections officer at Kingsport jail performed a search on 19-year-old Dallas Archer, she allegedly discovered an "unknown object" lodged in the young woman's crotch. She alerted another female officer, who accompanied her during a further examination, according to documents obtained by the Smoking Gun.