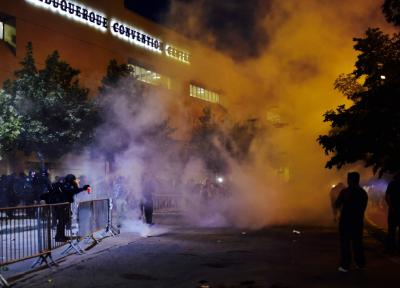 Every time this happens, it strengthens the "we need to 'take our country back' from 'those people'" narrative. It plays right into an Agnew/Nixonesque appeal to the "silent majority". Young Elijah Martinez is absolutely right: this is giving Trump what he wants.
ALBUQUERQUE — What began as an assembly of about 1,000 peaceful protesters outside a Donald Trump rally at the Albuquerque Convention Center morphed into madness Tuesday evening when mostly young, raucous rioters joined the ranks, hurling burning T-shirts, rocks and bottles toward the police and police horses trying to contain them.

Several Albuquerque police officers were injured by the projectile rocks, and at least one rioter had been arrested by the end of the night, the department tweeted....