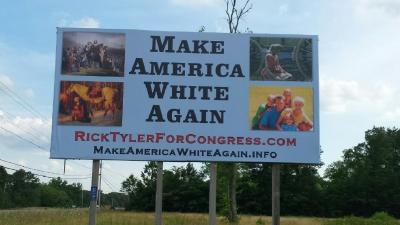 From the "I don't want to live on this planet any more" department: Rick Tyler is running as an independent candidate for Congress in Polk County, Tennessee, with an...interesting...slogan on his billboard
The billboard of a Tennessee restaurant owner running for Congress reading "Make America White Again" has drawn criticism from Polk County residents.

...

The website says the billboard on Highway 411 could "make a major splash:"

"The Make America White Again billboard advertisement will cut to the very core and marrow of what plagues us as a nation. As Anne Coulter so effectively elucidates in her book, Adios America, the overhaul of America's immigration law in the 1960's has placed us on an inevitable course of demise and destruction. Yes the cunning globalist/Marxist social engineers have succeeded in destroying that great bulwark against statist tyranny the white American super majority. Without its expedited restoration little hope remains for the nation as a whole."