Submitted by

Tom Swiss

on Tue, 09/29/2009 - 00:18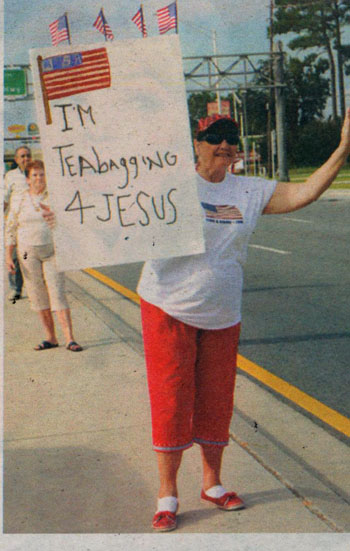 On my net wanderings I found this image of a woman holding a "Teabagging 4 Jesus" sign.
This is the first firm example I've come across of the teabaggers actually using the term "teabagging". I've been using it and find it appropriate due to the presence of teabags and the pathetic nature of the participants in the act (when the best you can do to express your political views is throw teabags around, you deserve to be the butt of jokes), but up until now I've regarded it as a term that Rachel Maddow and other pundits stuck on them -- appropriately, but still not one of their own selection.
To see this confused, flag-waving woman claim to be "Teabagging 4 Jesus", though, well, res ipsa loquitur.