Submitted by

Tom Swiss

on Wed, 08/13/2014 - 01:24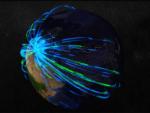 It's not just roads and bridges that our "privatize everything!" regime is failing to maintain. It's the Internet, too. This problem was forseen months ago and is expected to last for another week or two.
While an ISP maintenance activity may have played a factor, the real problem was that Border Gateway Protocol (BGP) routing tables have grown too large for some top-level Internet routers to handle. The result was that these routers could no longer properly handle Internet traffic.