Submitted by

Tom Swiss

on Mon, 04/21/2014 - 10:36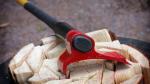 I haven't done much wood-splitting, and some of the comments suggest that this approach would be less useful on the type of wood we're likely to be dealing with here in the U.S. Still, this is impressive.
Splitting a log requires a surprising amount of force, but Finnish inventor Heikki Kärnä has invented a new kind of axe that makes it much easier and safer.

...

The Vipukirves still has a sharpened blade at the end, but it has a projection coming off the side that shifts the center of gravity away from the middle. At the point of impact, the edge is driven into the wood and slows down, but the kinetic energy contained in the 1.9 kilogram axe head continues down and to the side (because of the odd center of gravity). The rotational energy actually pushes the wood apart like a lever. A single strike can open an 8 cm gap in a log, which is more than enough to separate it.