Submitted by

Tom Swiss

on Tue, 09/30/2014 - 09:22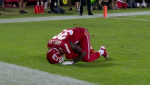 Christian prayer, ok. Muslim prayer, 15 yard penalty. It's not as horrible as bombing people because they're Muslim, or violating their civil rights because they're Muslim, but it's ugly.
In a move that is sure to generate some discussion, Husain Abdullah of the Chiefs was flagged 15 yards after kneeling in the end zone in Muslim prayer after scoring a touchdown off an interception of Tom Brady. The unsportmanlike conduct penalty Abdullah received sparked a quick outrage on Twitter where it was noted that plenty of Christian players mark their scores with a sign of deference, reflection or tribute to their higher power.