Submitted by

Tom Swiss

on Mon, 08/11/2014 - 09:03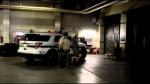 "Champ previously served a prison term for manslaughter, has several convictions for weapons offenses and is also a registered sex offender." And yet, in a state with just some of the strictest gun control laws, this multiple convicted felon was able to get a gun. I'll say it again: gun control laws keep guns away from bad guys as well as drug control laws keep heroin away from junkies.
Also, there are people who voted for this guy. That's the problem with democracy...
Champ campaigned in this year's California primary on a platform that he would clean up state government. He had a brief, scheduled appearance on the dais during the California Republican Party convention in March and attracted 2% of the total vote in June.

Champ is a "felon with an extensive criminal history that dates back to 1985," Mims said.

In 1998, Champ, who was working then as a garbage hauler, was arrested in the killing of a rival trash hauler in the Fresno County foothills....

In 1993, he was convicted of two counts of assault with intent to commit rape and was placed on the state's sex offender registry.