Submitted by

Tom Swiss

on Tue, 08/05/2014 - 11:34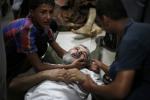 "No wonder, then, that I'm heartbroken to see the Judaism of love and compassion being dismissed as "unrealistic" by so many of my fellow Jews and fellow rabbis."
I always told myself that the dominant humanity of the Jewish people and the compassionate strain within Torah would reassert itself once Israel felt secure.

That belief began to wane in the past eight years when Israel, faced with a Palestinian Authority that promoted nonviolence and sought reconciliation and peace, ignored the Saudi Arabian-led peace initiative that would have granted Israel the recognition that it had long sought, an end to hostilities, and a recognized place in the Middle East, refused to stop its expansion of settlements in the West Bank and imposed an economically crushing blockade on Gaza. Even Hamas, whose hateful charter called for Israel's destruction, had decided to accept the reality of Israel's existence, and while unable to embrace its "right" to exist, nevertheless agreed to reconcile with the Palestinian Authority and in that context live within the terms that the PA would negotiate with Israel.

Yet far from embracing this new possibility for peace, the Israeli government used that as its reason to break off the peace negotiations, and then, in an unbelievably cynical move, let the brutal and disgusting kidnapping and murder of three Israeli teens (by a rogue element in Hamas that itself was trying to undermine the reconciliation-with-Israel factions of Hamas by creating new fears in Israel) become the pretext for a wild assault on West Bank civilians, arresting hundreds of Hamas sympathizers, and escalating drone attacks on Hamas operatives inside Gaza.