Submitted by

Tom Swiss

on Thu, 07/24/2014 - 00:18
Is it time to sharpen the guillotines and give the aristocrats what they deserve yet?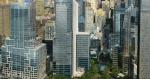 New York City moved just a little closer to all-out class warfare over the weekend, when the Department of Housing Preservation and Development approved a plan for an Upper West Side condo building with a separate door for the poorer people who are being allowed to live there. Extell Development, the company building the 33-story luxury complex at 40 Riverside Drive, proposed the controversial arrangement last year as part of its application for the Inclusionary Housing Program, which gives developers tax credits and other perks in exchange for creating some affordable units alongside their less affordable ones.