Submitted by

Tom Swiss

on Thu, 06/26/2014 - 13:11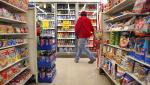 And this is why we pay with old-fashioned untraceable cash, and never join "store loyalty" tracking programs.
Information compiled by data brokers from public records and credit card transactions can reveal where a person shops, the food they buy, and whether they smoke. The largest hospital chain in the Carolinas is plugging data for 2 million people into algorithms designed to identify high-risk patients, while Pennsylvania's biggest system uses household and demographic data. Patients and their advocates, meanwhile, say they're concerned that big data's expansion into medical care will hurt the doctor-patient relationship and threaten privacy.