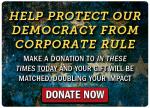 All your body are belong to the government. See also my recent piece on the sacredness of the body and the sacrilege of the state
Jessie Lee Herald, 27, of Edinburg, Virginia was offered a plea deal by assistant commonwealth's attorney Ilona L. White on June 4 that encompassed undergoing a vasectomy, 20 months in jail and five years' probation. Herald accepted the plea to avoid a trial for charges of child endangerment, hit-and-run driving and driving on a suspended license....

Critics have been quick to point out that this is a form of state-sanctioned eugenics, which has a long history at the margins of United States law. State sterilization was infamously upheld by the Supreme Court in 1927's Buck v. Bell, a case that originated in Virginia and paved the way for systemic sterilizations in poor and minority communities, prisons, and U.S. territories.