Submitted by

Tom Swiss

on Thu, 05/22/2014 - 09:30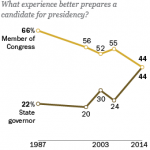 According to a Pew Research Center poll, being an atheist is one of the worst things a candidate for political office can do in terms of getting people to vote for them.
(The trend of them preferring state governors for President, which we've discussed previously (2008 being quite the oddity), seems to be strengthening. If the Democrats are dumb enough to put H. Clinton up against a GOP governor -- including, gods help us, a potential J. Bush run -- look for a trouncing.)
Just over half (53%) say they would be less likely to vote for someone who does not believe in God, while only 5% say this would make them more likely to support a candidate.