Submitted by

Tom Swiss

on Thu, 05/22/2014 - 09:15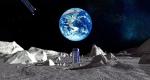 SMH. Another reason why Bill Hicks's advice on marketing is so important.
...Which I mention because, very soon, the pock-marked lunar surface will host even more of the detritus of human dreams: in this case, a small, metal canister of energy drink. The can will be composed of titanium. Its contents will be powdered. It will also be, as The Verge puts it, "the first commercial product delivered to another world for marketing purposes."

In other words, the march of human progress has come to an inevitable point in its evolution: we're about to use our celestial neighbor as an enormous billboard. With the product in question being a powdered sports drink....

...Otsuka is planning to put some Pocari Sweat in the Falcon 9 rocket meant to make the trip—and then to have the firm Astrobotic Technology (a company that, ironically, specializes in the clearing of space trash) deposit the canister on the moon.