Submitted by

Tom Swiss

on Tue, 05/13/2014 - 10:24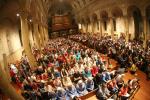 Because knowledge is dangerous, and we certainly wouldn't want college students learning stuff and having ideas challenged.
After intense scrutiny from top religious leaders, Harvard administrators, and their fellow classmates—not to mention lack of a proper venue—the Harvard Extension Cultural Studies Club backed down from hosting a controversial reenactment and demonstration of a Satanic "Black Mass."

...

The group had originally decided to move the ritual off campus, away from Harvard's Queen's Head Pub in Memorial Hall, due to increasing complaints coming in from every corner of the community...

At no point did administrators tell students to call off the ritual, citing the club's rights to free speech and assembly, however, Faust did call the plan "abhorrent" and "deeply regrettable."

...

But a less-public version of the Black Mass was still reportedly held at the Hong Kong bar just steps away from Harvard's main campus area, according to group members from the Satanic Cult.