Submitted by

Tom Swiss

on Mon, 05/12/2014 - 11:11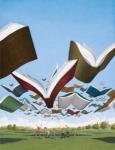 Will the death of the Big Bookstore mean the end of bookstores? Or will it re-open the market for small stores with more curated offerings?
This may be the last year that Barnes & Noble bookstores remain open.

It's bad news for people who love books. It's worse news for the next generation of readers, who may never experience buying a book in a bookstore.

...

...Serendipity — the sweet surprise of happening upon an unexpected book — is an experience that can happen only in a bookstore.