Submitted by

Tom Swiss

on Sun, 03/30/2014 - 12:15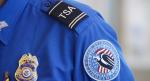 Former TSA screener Jason Edward Harrington, author of the "Dear America, I Saw You Naked" piece, shares more good time recollections of his experiences with everyone's favorite federal agency.
Another one: It's 2010, and a passenger is trying to bring her live goldfish through security. One of my co-workers informs her that the fish can go through but the water cannot. The woman is on the verge of tears when a supervisor steps in to save the fish's life.