Submitted by

Tom Swiss

on Fri, 04/18/2014 - 16:20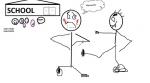 Too true. I don't want to get all weepy here, and all in all I'm doing ok, because I've been fortunate enough to have other factors more than balance it out. But I still find stuff in my head that I can trace back to shit that happened when I was ten years old. If you see it, stop it. Please. Just, stop it.
A new study in the American Journal of Psychiatry finds what others had hinted at but not quite arrived at: That the effects of childhood bullying can last not only through adolescence and young adulthood, but also through middle age. Earlier studies had shown the negative psychological and social effects of bullying to be evident into a person's 20s, but the new research tracked the psychological health and cognitive function of once-bullied kids till they were 50. And the effects of bullying – particularly of severe bullying – affected a person's well-being in a great number of ways. All the more reason, the authors urge, to take bullying just as seriously as we would any other form of childhood abuse.