Submitted by

Tom Swiss

on Mon, 05/05/2014 - 23:16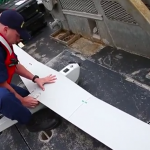 According to the FTC -- part of the U.S government -- If you receive merchandise that you didn't order, you have a legal right to keep it as a free gift.
A Redditor got more than he bargained for in the mail today: He was accidentally mailed parts to a $350,000 environment and wildlife monitoring drone owned by the National Ocean and Atmospheric Administration.

David Miller, a spokesperson for NOAA, told me he's not sure how the wings and control panel to a NOAA Puma drone, which the agency uses to measure ocean debris, conduct seabird surveys, and monitor ocean habitats, ended up in the hands of the Redditor, but believes that UPS somehow erred and delivered it to the college student.