Submitted by

Tom Swiss

on Fri, 08/01/2014 - 11:55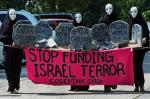 You tax dollars at work.
The United States confirmed it had restocked Israel's supplies of ammunition, hours after finally sharpening its tone to condemn an attack on a United Nations school in Gaza. "Obviously nothing justifies the killing of innocent civilians seeking shelter in a UN facility," deputy State Department spokeswoman Marie Harf acknowledged, in some of the toughest US comments since the start of the 23-day fighting in the Gaza Strip.