Submitted by

Tom Swiss

on Fri, 04/18/2014 - 16:11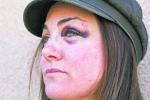 Business as usual in the police state.
On March 30, Taxi Cab Driver Dawn Bourgeois was detained by Santa Fe Police Officer, Jose Gutierrez. According to an attorney hired by Bourgeois, what happened next is 'disturbing.'

She committed no crime and certainly didn't commit a crime for which he takes her to the ground, beat her up, black her eye, and they charge her with resisting or obstructing," said Tom Clark.